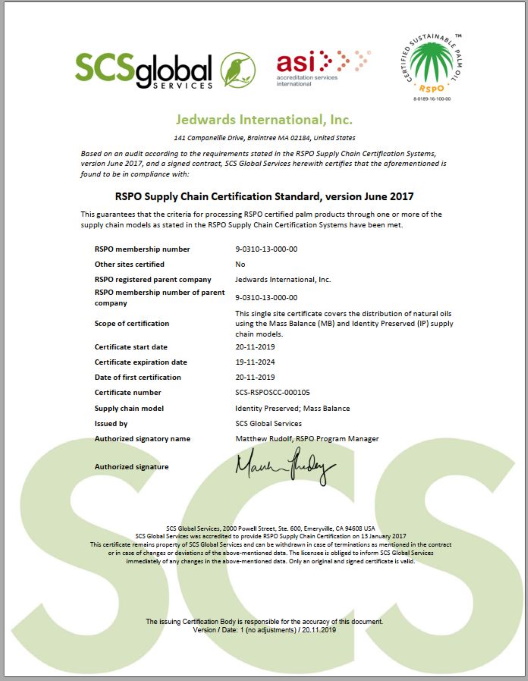 RSPO Certification is a global standard that assures the end-consumer that sustainable palm oil production is in place and upheld throughout the supply chain, protecting the environment and surrounding natural habitats.
Palm oil producers must adhere to standards set and verified by accredited Certifying Agencies that audit and enforce strict guidelines to prevent the overselling or mixing of non-sustainable palm oil products.
There are four levels of RSPO Certification: Identity Preserved (IP), Segregated (SG), Mass Balance (MB), and lastly, Book & Claim.
Jedwards is a proud supplier of RSPO Certified palm oil products and is committed to the support and growth of these esteemed sustainable producers.
Please login or create an account to view our complete RSPO Certificate. .
Jedwards International, Inc.
exports to most countries globally on a regular basis. While our e-commerce site supports the United States and Canada only, we can export majority of our products internationally. We accept international payments by wire only. Please email
sales@bulknaturaloils.com
or submit a
Contact Us form
via our e-commerce platform for more information regarding international orders and shipping options.
© 2017-2022 Jedwards International, Inc. All Rights Reserved.