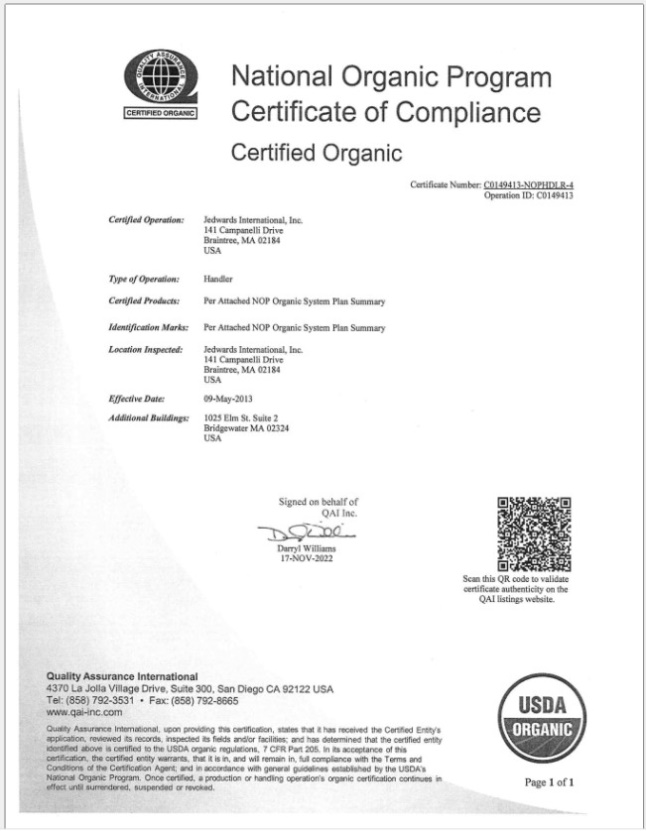 The U.S. Department of Agriculture National Organic Program (NOP)
sets the standards and regulations that must be adhered to for a producer, seller, or handler of agricultural products to be certified and labeled as "100% Organic," "Organic," or "Made With Organic (specified ingredients)" by a USDA accredited certifying agency.
Organic Certification provides producers and consumers the assurance that natural resources are protected, habitats and ecosystems are conserved, and only approved crops, livestock, and processing inputs are used.
The demand for organic certified products has been growing steadily in popularity as consumers increase their knowledge on the benefits that not only impact the environment with conserved energy and an improved quality of water, but also give rise to local economies and both domestic and international markets.
Jedwards is a proud supplier of organic certified raw materials and is audited yearly by Quality Assurance International, a USDA accredited certifying agency committed to protecting the environment and providing access to organic food and products.